This just in from the it's so leftover from the '80s it still smells flammable sponsored by AquaNet desk…
by God edited by O Society September 13, 2019
Donald Trump is a man who never found a tanning booth he didn't like. He looks as if a permanent pair of protective goggles is burned onto his skin. He is Cheeto Jesus incarnate. The man is Agent Orange Julius Caesar…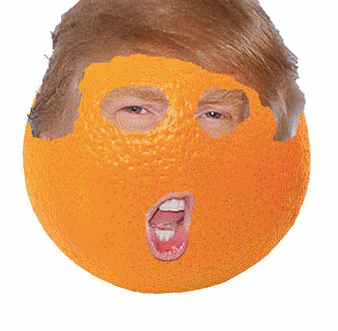 Rude insults about this alleged president may or may not feel cathartic, yet often I wonder— can he even read? Probably inhales the comments section, since he's one of the most insecure people on the planet spends his life gazing at his own Qscore navel.
How many times do you need to be called orange before you start putting on concealer? If anything, he's gotten more orange since taking office. Well, Internet, Trump might not change, but he's heard your jokes comparing him to a loose wheel of Wisconsin not-so-sharp cheddar.
While addressing a room full of house Republicans at a retreat dinner on Thursday, Trump finally mentioned he knows he looks orange, as NBC News reports.
He also claims the reason his skin resembles a loose pile of abandoned orange peels is dreaded energy-efficient lightbulbs. And they're making everyone orange, not just him. Be aware and be afraid, very afraid!
"The light bulb. People said what's with the light bulb? I said here's the story, and I looked at it. The bulb that we're being forced to use—No. 1, to me, most importantly, the light's no good. I always look orange," Trump said. "And so do you. The light is the worst."
Obviously, people find this absurd:
The Trump Show said last week they're planning to roll back requirements for energy-efficient lightbulbs standardized under the last two previous administrations, and the Department of Energy plans to repeal a regulation enacted by Obama to make more lightbulbs comply with energy-efficient standards.
So, Trump wants to destroy the planet either for vanity or to distract us from noticing he's destroying the planet with blatant lies about his self-tanning products abuse.
Looks bad under any light. Not the brightest star in the… box.